And here is the "and more" part of my website
Yesterday I made these little mug rugs as gifts for the dialysis team that takes care of Hubby. He does his peritoneal dialysis at home, but he meets with them once a month and they do things through out the month to ensure he is doing ok.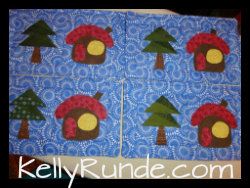 The tree is a paper pieced pattern by Forest Quilting. Don't know how to paper piece? It is so much fun and easier than you might think! Here is a video I created to teach paper piecing aka foundation paper piecing.
The little cabin is designed by me. You can download the PDF for the cabin here. Simply cut out the pieces and trace them onto the back or paper side of the fusible web after it has been ironed onto the fabric of your choosing. Here is a video I created that might be of some help to those new with fusible applique (in time I will make a video just for how to use fusible web).